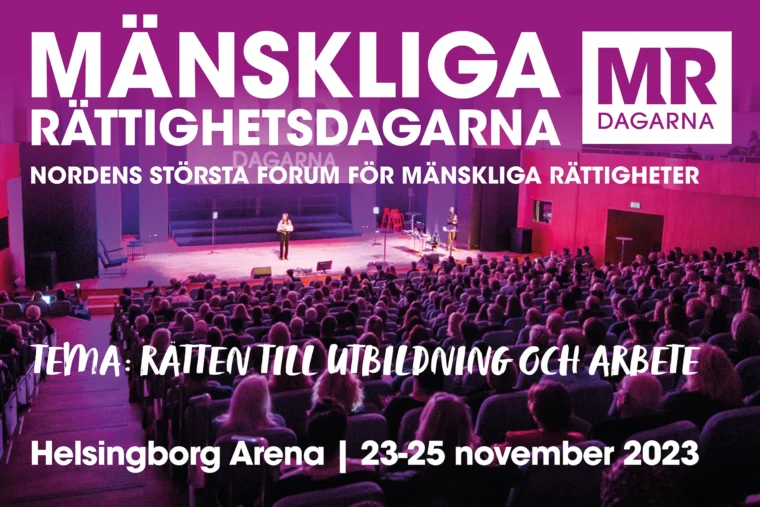 The Swedish Foundation for Human Rights and University College Stockholm invite submissions to this year's essay competition for Bachelor and Master's students from various academic disciplines. The essay competition aims at examining the human rights, peace and security nexus.
The theme of the essay competition is: The interlinkages between human rights protection and peace and security.
Essays could be on a general level, or for example be delimited to a specific right, conflict, or geographic area. They must however, make connections between human rights and peace and security.
We invite students from different academic disciplines to participate, such as (but not limited to): law, political science, peace and conflict studies, human rights studies, gender studies, international relations, development studies, criminology, anthropology, history and journalism. The essays can be written as part of a specific course or independently.
After the deadline for submission, a jury composed of experts within human rights, peace and security will read and assess the essays, and select a winner. The writer of the winning essay will be awarded a diploma as well as a ticket, and train tickets within Sweden, to visit the Swedish Forum for Human Rights (Mänskliga Rättighetsdagarna) in Helsingborg, 23-25 November 2023.
Eligibility: The author of an essay must be enrolled in a Bachelor's or Master's program in a university or other higher learning institution in a Nordic country[1]. Please note that a certificate of enrolment for the spring or autumn semester 2023 must be attached to the essay submission.
Format: Times New Roman, font size 12, spacing 1,5, margins 2,5 cm. The length of the essay should be 2 000 – 4 000 words. The essay should be written in English.
Disclaimer: We serve the right to adapt, change or cancel the first prize award should exceptional circumstances arise. In such event we will as far as possible and in discussion with the winner strive to replace the award with a suitable alternative.
Please email info@humanrights.se to register your interest to participate in the competition by June 30, 2023 and submit your essay no later than October 1, 2023. Title your email "Essay Submission". For further information please contact info@humanrights.se.
Read previous winners essays here, and watch a filmed interview with the last year's finalists about their essays and their experiences of the essay competition here.
Previous winners' testimonies are found below.
Testimony of Helmer Jonelid, winner of the essay competition in 2021
Having participated in the Essay Competition twice, I can certainly say that it is one of the highlights of the year. Keeping the topics broad and the competition open for students from different fields, the Swedish Foundation for Human Rights provides future humanitarians with a unique opportunity to delve into the issues that they have an interest in, but would otherwise not find an excuse to actually delve into.
To then have the opportunity to discuss my papers with other students, the distinguished panels and other experts in a seminar revolving around the finalist's papers adds an extra layer to the competition, not least by widening the participants' professional networks. I would not have won the competition in 2021, had I not participated in 2020 and received such excellent feedback as well as encouragement to participate again.
Due to the pandemic, I have not been able to retrieve my prize, but the Foundation has been very accommodating in trying to find alternative solutions. Regardless, participating in the Essay Competition are two of the best decisions that I have made in my professional career, and probably will be for years to come. I sincerely urge every student with an interest in human rights, regardless of their field of study, to participate and take the chance to find their own take on this very important and topical field.
Testimony of Amalia Ydrefelt, winner of the essay competition in 2020
Participating in the Swedish Foundation for Human Rights' essay competition was a very rewarding experience! The competition gave me the opportunity to delve deeper into a particular topic and region that really interests me and it was also a good complement to my studies.
Being one of the finalists, I had the opportunity to present and discuss my essay at a seminar together with Swedish Foundation for Human Rights and prominent experts in the field. I found it very exciting to hear their reflections and comments on my essay and it also gave me the opportunity to widen my network.
While we have not yet been able to travel due to COVID-19, I do not regret that I participated in the competition! Lastly, the Swedish Foundation for Human Rights has been very helpful throughout the entire process and I am really grateful for having my eyes opened to their organization and work!


[1] Sweden, Denmark, Finland, Iceland, Norway, Åland, the Faroe Islands and Greenland.